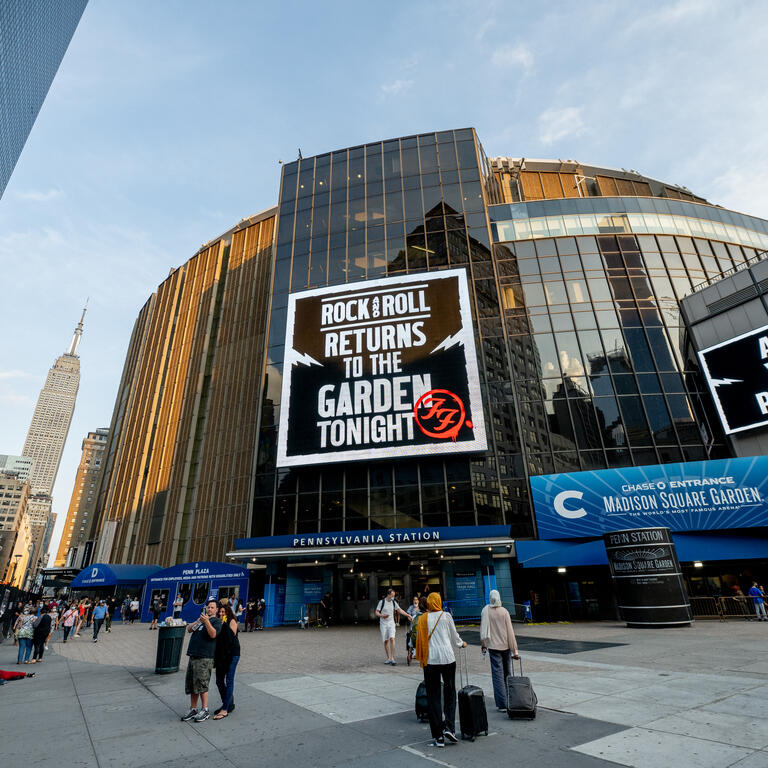 Roy Rochlin/Getty Images Entertainment
Madison Square Garden Entertainment Corp. (MSGE) is the owner and operator of many iconic venues where live entertainment is offered. With various entertainment shows, dining and nightlife offerings, and music festivals, MSGE is able to engage around 12M visitors annually before the COVID pandemic. Although uncertainties still exist, I think this stock offers lots of potential in the post-COVID era. I will share some of my thoughts here.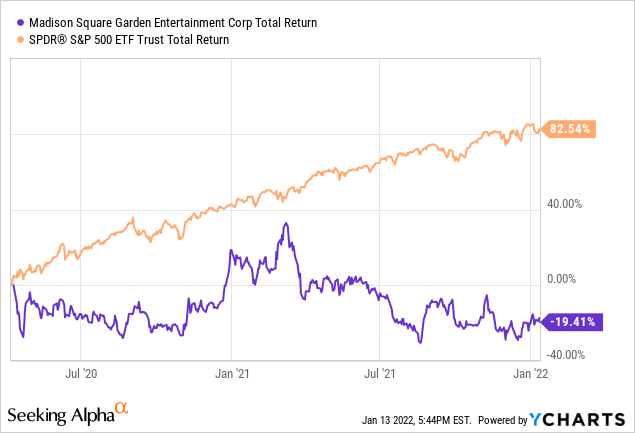 As a spinoff company from the old Madison Square Garden Company (MSG), MSGE inherited the property rights of The Madison Square Garden, Hulu Theater, Radio City Music Hall, the Beacon Theatre, the Forum in Inglewood, CA, and the Chicago Theatre. The booking business for entertainment events, the MSG networks' media inventory, and arena license agreements with sports teams are also included. Historically, spinoffs offer increased flexibility for growth and more focused business strategies for shareholders. The companies involved often outperform the market, but this is not the case for MSGE so far since the stock price has lagged the S&P 500, and the COVID pandemic negatively impacts sales.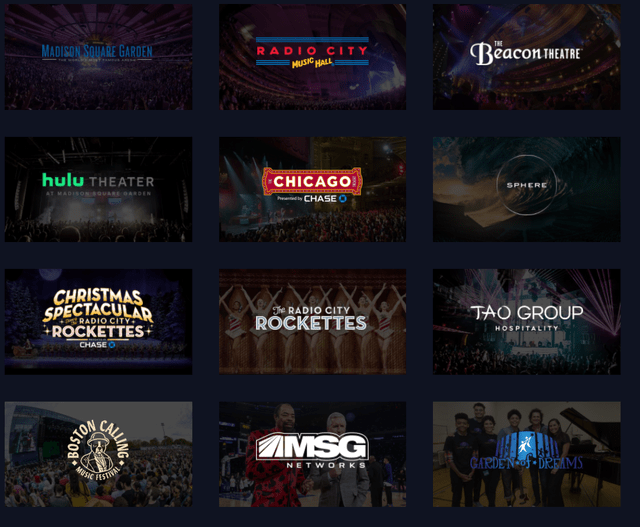 MSGE Venues
https://www.msgentertainment.com/
Live entertainment and face-to-face interactions are, and will continue to be, the essential need for human beings. Providing decades of world-class customer experiences, MSGE's venues have built the most recognized brands in the world and are often on the bucket list of many visitors. A long track record of successful marketing, ticket sales, and venue operations has earned MSGE a reputation as the most admired platform for live events. Top-tier performers and artists are keen to perform for MSGE, attracting more customers and sponsorships in return. Many customers also offer opportunities to utilize data to follow market trends and make timely decisions. Overall, MSGE owns unique intangible assets and brands that should fare well in the future.
MSGE owns Madison Square Garden (1.1M square feet) and Chicago Theater (0.07M square feet). The Madison Square Garden is one of the icons of NYC and worth at least $1.2B according to tax-assessed value (many analysts have estimated $2B but we go with $1.2B for now). The Chicago Theater was constructed with $4M in 1921 which equals $58M by today's value. So these two venues alone will be worth at least $1.26B (a very conservative number). Considering their unique styles, histories, and locations, they are definitely worth the premium price tags. The current inflation of real estate properties will also increase these property values.
MSGE gains revenue through tickets, suite/facility licenses, concessions, merchandise, sponsorship fees, advertising commission, and dining and nightlife offerings. Lots of revenues are associated with the traffic and events arranged in its venues. The COVID pandemic has had a significant impact on MSGE as lots of events have been canceled. It is legitimate that future events may not be as many as before since various virtual options are available nowadays.
The good news is that live events started to ramp up in mid-September 2021, which can be reflected in the recent quarterly earnings result (chart below) as the entertainment segment generated $34.2 million sales compared to $7.6M last year. MSGE is also envisioning a busy year ahead, so increased operational costs with hiring and program development were reflected in the higher operating loss. Overall, I think the Q4 2021 will be very strong for MSGE and provide more color for its future earnings power.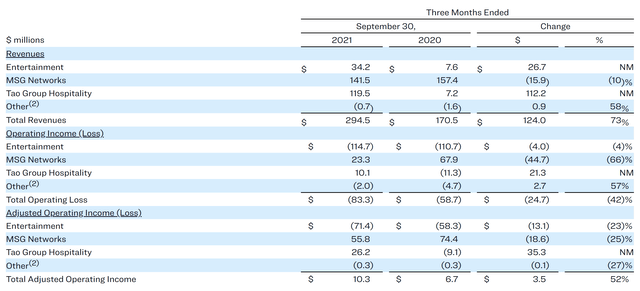 2021 Jul-Sep, segment performance
https://investor.msgentertainment.com/press-releases/news-details/2019/The-Madison-Square-Garden-Company-ReportsFourth-Quarter-and-Fiscal-2019-Results/default.aspx
MSG Sphere is a 366 ft tall and 516ft wide giant sphere-like architectural wonder equipped with 19,000 by 13,500 resolution LED screens for future live entertainment. This is a bold move made by MSGE, which can be another landmark in Las Vegas and attract millions of visitors every year. MSG Sphere is a physical building and an entertainment platform invention for staging, programming, storytelling, etc., which will be trademarked. MSGE is planning to push this model to other markets in the world. As the MSG Sphere designs can be a wide range of sizes and capacities, and they should be built similarly with the same technologies and operations. So this could be a scalable model if successful, just like the new Disneyland.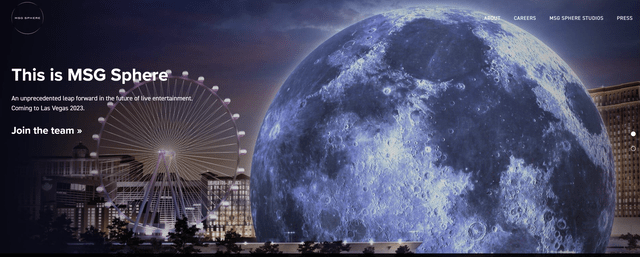 MSG Sphere
https://www.msgsphere.com/#slide-0
However, the MSG Sphere project comes with a huge price tag. In 2019, the estimated construction cost is 1.2B, right now is approximately 1.86B with the planned opening in 2023. This is a very expensive building considering Disney Land Shanghai (covering 225 acres) cost only 3.7B. Moreover, the content, technology, and personnel development have cost 27M last year, and higher expenses are expected. Although I don't think the MSG Sphere project will totally fail, it may not be worth the hype.
MSGE currently has an enterprise value (EV) of 3.21B. According to the operational data in 2019 before the pandemic, the old MSG entertainment segment could make an adjusted operating income of 118M and sales of 819M. MSG network operations have 141M sales and 55.8M adjusted operating income in the 2022 Q1 data, so we multiple these by four to get a full year of 564M sales and 223.2M adjusted operating income. Adding this annual estimate of the MSG network to the old MSG entertainment data, we can expect 1.38B sales and 341M adjusted operating income (similar to the margin of Disney Park operation). Then we can get an EV to sales ratio of 2.3x and EV to adjusted operating income ratio of 9.41x. This evaluation is very similar to other live entertainment companies such as Six Flags Entertainment Corporation (SIX) and Dave & Buster's Entertainment, Inc. (PLAY) during pre-COVID times. But MSGE has more cash and equivalent (1.3B) with way less debt. Its assets are also more premium and will definitely still be around 10 years or 20 years from now. Moreover, our estimate has not considered all the growth venues related to the MSG sphere and synergies with Tao Group yet. I think MSGE deserves a longer time horizon and should not be at a similar valuation with SIX or PLAY. The stock is undervalued.
If the MSG Sphere in Las Vegas can be successful (I believe it will), a huge runway will open up and put MSGE to the hyper-growth mode. However, we won't have a clear picture of MSG Sphere's effects until 2023 which involves lots of uncertainties. Lots of things can go wrong in two years.
This article was written by
Disclosure: I/we have a beneficial long position in the shares of MSGE either through stock ownership, options, or other derivatives. I wrote this article myself, and it expresses my own opinions. I am not receiving compensation for it (other than from Seeking Alpha). I have no business relationship with any company whose stock is mentioned in this article.
Additional disclosure: Additional disclosure: Disclaimer: I am not an investment advisor, and this article is not meant to be a recommendation of the purchase or sale of stock. Investors are advised to review all company documents and press releases to see if the company fits their own investment qualifications.